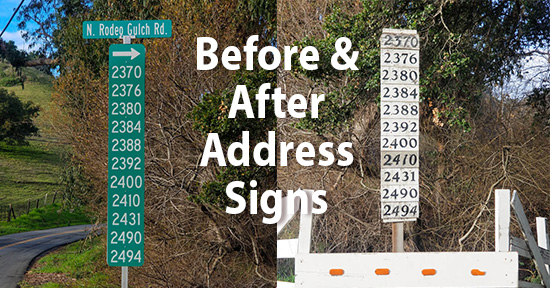 Time to upgrade your address signs. Now that we are recognized as a Firewise community, we need address signs with 4" white reflective numbering on a green metal sign. Santa Cruz County will require these in the future so we might as well get on board now.
Set up signage to help people find your home. This may mean that you have signs at a fork in the road to indicate what homes are ahead. Add arrows to clarify which direction to go.
Make sure signs can be seen if cars are parked in front of them (4 feet off the ground). Get two-way signs so people can find you coming from both directions.
Install signs on metal poles buried in cement. You can install yourself or hire a sign installation company.
I bought signs for all 11 households on my private road from Brimar Signs (Street Signs for Sale – Low Prices & Fast Shipping). Ask Joe Costello to help you (joe@brimar.com). He'll set you up with the diamond grade, 6" x 18" G/W, 4" text, double sided, .080" HIP reflective aluminum address signs. He can also help you with custom signs with arrows and multiple addresses.
Stokes Signs did our installation. https://www.stokessigns.com/
Ask for Drew Hosmer (831) 426-1570 or email stokes@stokessigns.com.
Go to our website to find sign companies and sign installers: Signage – NRGFirewise